Ray Janisse RRT, CHT
Director at Large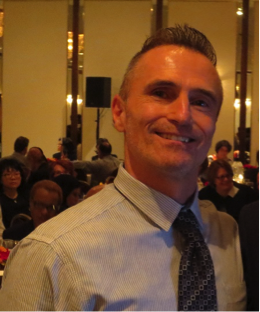 Ray Janisse has been employed at the University Health Network –Toronto General Division for over 28 years and has extensive experience in critical care and hyperbaric medicine. He graduated from the Michener Institute where he received his training as a respiratory therapist and completed his clinical training at Toronto General. In 2003 he advanced into a Practice Leader role within the hyperbaric medicine unit (HMU) where he was instrumental in establishing the existing hyperbaric medicine unit at TGH. During this time he served on the board of directors of the Great Lakes Chapter of the Undersea and Hyperbaric Medical Society. Ray received his CHT certification from the National Board of Diving and Hyperbaric Medical Society in 1992 and continues to maintain an active role within hyperbaric medicine. In 2008, he expanded his practice leadership role to include the Respiratory Therapy Department where he maintains responsibility for the day-to-day service provision of the RTD at Toronto General and Princess Margaret Cancer Center, by ensuring quality and consistency in patient care, enforcing standards set by the profession and the hospital, and providing educational and research opportunities. Ray's principal responsibilities within the RTD/HMU include: performing human resource management, budgeting and other financial responsibilities; monitoring and overseeing the day-to-day operations; participating in the operational and strategic planning process; developing quality initiatives, academic, and research projects; summarizing and evaluating findings related to quality management program; and performing corporate responsibilities, including acting as a spokesperson for the department within the hospital and the external community. He participates in several corporate committees within UHN and is currently the co-chair of UHN's acute resuscitation committee.
What are the most important initiatives you would like to champion as a CUHMA BOD member?
I have served on the CUHMA board as a director-at-large for the past two years and I am seeking re-election. My passion for the profession of respiratory therapy and hyperbaric medicine is to foster and develop evidence-based practice through research and education. My aspirations for CUHMA are to unify the practice of hyperbaric medicine across Canada, and inspire individuals to make positive contributions to everyday practice and reflect on behaviors that shape the tone of how we work with our patients.I am hoping to be an integral member of the team working on shaping the CUHMA practice guidelines while being an active member on the Canadian Standards Association (CSA) committee for hyperbaric medicine in Canada.