Geoff Zbitnew, MD
President-Elect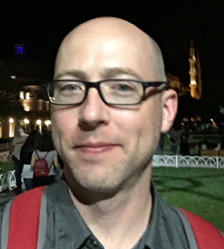 Geoff Zbitnew is currently an Associate Professor of Anesthesiology at Memorial University of Newfoundland and Staff Hyperbaric Physician for Eastern Health. Originally from Edmonton, Alberta, he moved to St. John's after completing medical school at the University of Alberta in 2000. He started in hyperbaric medicine in 2003 at the Medicor multiplace facility in St. John's while completing his anesthesia residency. Geoff is involved with medical education from the undergraduate to continuing medical education level. He has been an active ATLS instructor for the last 12 years. His additional professional interests include perioperative transesophageal echocardiography having recertified his NBE exam in July 2017. Geoff has instructed at several point of care ultrasound courses at the Canadian Anesthesiologists' Society meeting over the years and has been a previous speaker at the CC-UHMS and CUHMA meetings. His current hyperbaric practice is limited to monoplace therapy. He is an active member the Memorial anesthesia simulation sub-committee and involved in the hyperbaric emergency team simulation pre-course. Geoff has been a member of the Royal College examination board for anesthesiology from 2010-2017. He has more recently traveled to Kuwait with Royal College International to assist with anesthesiology examinations. He has been a member of the development committee for Royal College AFC in Hyperbaric Medicine and is current Vice-Chair of the AFC committee in Hyperbaric Medicine. Geoff is looking forward to assisting the board of directors in the planning the 2019 meeting in St. John's.
What are the most important initiatives you would like to champion as a CUHMA BOD member?
As a member of the CUHMA board of directors I would like to see more collaboration between Canadian hyperbaric facilities. We should be sharing data on the conditions we treat, tables and number of treatments given, as well as outcomes and adverse effects. Ideally this would occur in a national hyperbaric database. As we begin the development of Canadian hyperbaric medicine training programs, I would like to see CUHMA members coming together to share the expertise of our respective centers to allow trainees to benefit from multiple perspectives. As the requirements of the AFC in hyperbaric medicine are now accepted by the Royal College of Physicians and Surgeons of Canada, we can work together to develop a national training curriculum.