Jay Macdonald, MD
Past-President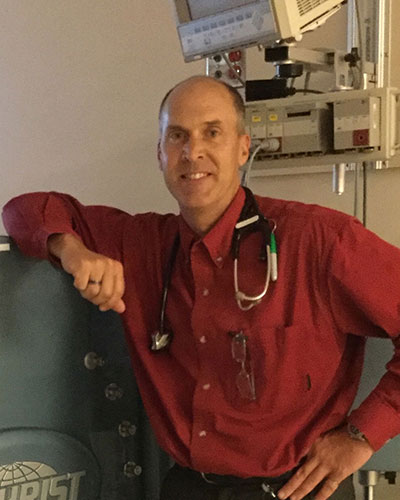 Jay MacDonald is a physician member of the Hyperbaric Medicine Team at Hamilton General Hospital. He earned his medical degree from the University of Toronto, and completed his residency at McMaster University in Emergency Medicine. Throughout his training, Jay placed an emphasis on Hyperbaric, Critical Care and Environmental Medicine. Prior to his medical training, Jay completed his Master's and PhD in Medical Science (Physiology and Pharmacology) at McMaster University. A portion of his comprehensive examinations focused on the role of hyperbaric oxygen in carbon monoxide poisoning.
Following his PhD, he spent time at Stanford University as a Post Doctoral Fellow working with the U.S. Army Research Institute of Environmental Medicine Team. During this time he conducted research focused on high altitude medicine. The culmination of this work included two months atop Pike's Peak studying the physiological effects of altitude.
Jay's medical and research career led him to be one of the top 25 candidates selected from an applicant pool of 5500 in Canada's 2008-2009 Astronaut Recruitment Campaign.
As a competitive sailor, Jay's interests in hyperbaric medicine stem from his combined love of the water, and physiology.
What are the most important initiatives you would like to champion as a CUHMA BOD member?
As CUHMA continues to evolve from a chapter of the UHMS to a free-standing, independent association, our growth depends on strengthening cohesion amongst both individual and institutional members. This includes fostering such solidity through formal and informal communication channels as well as inter-facility co-operation. The relative sparsity of scientifically-based hyperbaric facilities in Canada requires the need for such inter-facility co-operation in ensuring uniform protocols, standards of care and identification and tracking of outcome variables as well as the ability to enable smooth inter-facility referrals to ensure patients are treated at the most appropriate facility in a timely manner. Additionally, it will be crucial for CUHMA to ensure its members achieve value for their membership. This value can be demonstrated by continuing to ensure and expand the offerings of accredited educational opportunities as well as producing tools to assist hyperbaric practitioners and facilities in public education, liaison management and documentation. I look forward to working with CUHMA members to strengthen our bonds, and enhance your value for membership.