Toronto General Hospital Hyperbaric Medicine Unit

UHN Hyperbaric Medicine Unit
The Hyperbaric Medicine Unit at the Toronto General Hospital (TGH) was founded in 1964 with the installation of a multi-place chamber.The need for the chamber came as a result of workers digging the tunnels for the new Yonge/University subway line developing decompression sickness as a result of working in pressurized underground tunnels.
The current Hyperbaric Medicine Department at Toronto General Hospital (which is part of the greater University Health Network – UHN) was opened in November 2006. The Fink rectangular multi-place hyperbaric chamber was the first rectangular chamber in North America and has a capacity to treat 6-8 patients to a maximum pressure rating of 6 ATA.The hyperbaric medicine unit also has 3 monoplace chambers.In 2017, the UHN Hyperbaric Medicine unit provided 2674 hyperbaric treatments.
The Hyperbaric Medicine Unit at TGH treats conditions approved by the Undersea & Hyperbaric Medical Society and Health Canada. UHN is Canada's largest research hospital and has a proud history of conducting innovative research. The UHN Hyperbaric Medicine Unit continues to lead innovative research investigating the efficacy of hyperbaric oxygen therapy for the treatment of stroke, pain and spinal cord ischemia.
Supported by physician specialists, hyperbaric-trained respiratory therapists, research and administrative staff, the UHN team is committed to providing evidence-based care that is patient-centered and responsive to the clinical circumstances and values of each individual patient.
---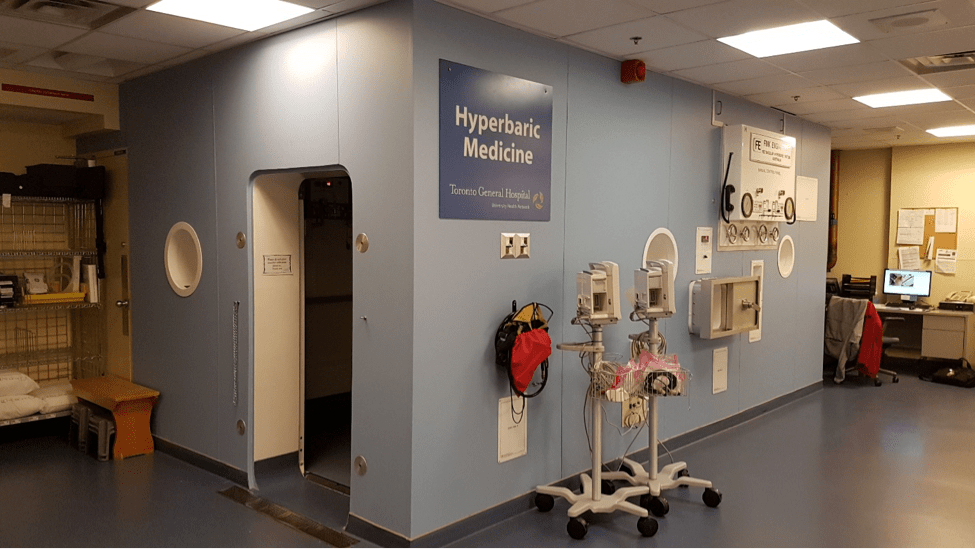 Facility
Toronto General Hospital Hyperbaric Medicine Unit
Location
200 Elizabeth Street
G-PMB-107
Toronto, ON
M5G 2C4
Phone: (416) 340-3598
Fax: (416) 340-4481 Website: 
Medical Director
Dr. Rita Katznelson
Technical Details
3 Monoplace Chambers (3 ATA)
1 Multiplace Chamber (6 ATA)
UHMS Indications: Yes
Diving accident:Yes
Research: Yes